According to multiple reports published by Gartner Research the demand for software products enabling Hyperautomation initiatives is expected to witness exponential growth.
"By 2022, the software market powering Hyperautomation is expected to reach USD 600 Bn and USD 860 Bn by 2025 with an expected 12.3 percent CAGR" – Gartner Research.
Enterprises across the globe have invested in automation technology to automate manual, time-consuming, routine, and repetitive tasks to accelerate digital transformation by increasing process efficiencies. It becomes essential for enterprises to look beyond automating siloed business processes using native automation technologies which have existed for decades - such as Robotic Process Automation (RPA). RPA technology certainly automates routine, repetitive, and time-consuming tasks involving unstructured data, which previously required human intervention.
However, it has its limitations. Automation efforts driven by RPA often do not have embedded cognitive, data analysis, and process mining capabilities. Governing themes of RPA driven automation projects are mostly nucleated (use case-specific). RPA automation fails to bring a holistic understanding of the business processes and hence cannot address nuances involved across the entire business process. It has been effective in addressing situational automation requirements. Digital native companies need to devise a holistic automation strategy and choose additional value-added technology components to complement automation that can deliver end-to-end intelligent process automation.
What is Hyperautomation?
Hyperautomation is not simply an extension of Robotic Process Automation (RPA). Instead, Hyperautomation builds a cognitive layer above automation. As a result, it helps in calibrating collaboration and real-time decision-making across business owners and respective processes.
Automation is at the core of a Hyperautomation platform - flanked by multiple artificial intelligence (AI), machine learning, process mining, data analytics technologies as part of the broader arsenal which Hyperautomation offers.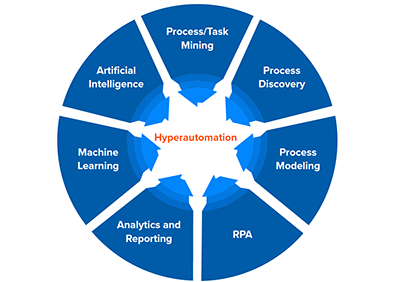 According to Gartner – "Hyperautomation deals with the application of advanced technologies, including AI and ML, to increasingly automate processes and augment humans. Hyperautomation extends across a range of tools that can be automated, but also refers to the sophistication of the automation (i.e., discover, analyze, design, automate, measure, monitor, reassess". This approach has different names: Gartner refers to it as Hyperautomation, Forrester calls it Digital Process Automation (DPA), and IDC calls it Intelligent Process Automation (IPA).
Hyperautomation Themes in 2022 and beyond?
To realize the unlimited potential that Hyperautomation offers, different technologies solutions must be integrated and should perform in tandem, which can deliver results at scale. As a result, Chief Digital Officers (CDOs) across organizations are evaluating investment themes in Hyperautomation.
"By 2024, organizations will lower operational costs by 30% by combining Hyperautomation technologies with redesigned operational processes." – Gartner Research
End-to-end Reengineered Business Processes
Process reengineering efforts are majorly examining efficiencies across process cores and improvising to increase efficiency and productivity. Traditionally business processes are heavily influenced by human operators, leading to dependencies on manual activities. As a result, it often gives rise to operational bottlenecks and hampered process performance – which was never up to business expectations.
Automating a broken process without reengineering often involves shifting bottlenecks, leading to constant errors, and giving rise to exceptions. However, the Hyperautomation approach considers process design choices and process context to ensure automation success. Hyperautomation approach streamlines and standardizes much of the upstream and downstream workflow to ensure constant process continuity. Focusing on end-to-end process reengineering efforts from discovery throughout implementation provides organizations with complete transparency into their operations and builds a strong case for holistic monitoring and management.
A human centric Approach
A human-centric approach to automation is mostly overlooked; yet being highly essential towards ensuring success. Such strategies prioritize users' needs, requirements and empower users to complete tasks effectively. Most organizations have realized the importance of user and employee experience and focus on building user-centric design to automation cores to make task completion seamless.
Hyperautomation yields a much higher adoption rate across business processes when designed and implemented with a human-centric approach. It creates a positive user experience and powers seamless task completion – which further increases productivity. Hyperautomation is the path to automation with zero resistance while blending human and machine capabilities to optimize results and business outcome.
Learn More - Beyond Automation: The Hyperautomation Edge vs Conventional RPA [Whitepaper]
About the Author
Aritro Chatterjee, Product Management, Kanverse.ai