Enterprises have witnessed the transformative benefits of automation with its deployment across multiple business processes, including automating invoice processing Accounts Payables (AP). However, the whole context of automation changed with the introduction of Artificial Intelligence (AI). Efficient management of accounts payable and management is vital for a business as it allows an organization to handle its finances effectively. When accounts payable departments run smoothly and efficiently, invoices are paid on time, and organizations gain a reputation among suppliers and partners for prompt payments. There are multiple Automation Scenarios that AP teams must consider while considering automating invoice processing to ensure automation success.  
What is Accounts Payable? 
In accounting, Accounts payable (AP) is the amount of money an organization owes its vendors, shown as a liability on a company's balance sheet. The AP department is responsible for processing and reviewing transactions between the business and its vendors and ensuring all outstanding invoices are processed and paid. The AP process starts with getting supply requirements from within the company, seeking quotes from suppliers, negotiating the deal, and preparing the purchase orders (PO). Once the goods are delivered and inspected, the invoice received is processed for approval. Processing an invoice includes recording critical data from the invoice and inputting it into the financial systems (ERP). Finally, the invoices go through the business processes for payment. 
What is Accounts Payable Automation or ap automation? 
Many organizations streamline the business process of their accounts payable departments using process automation. Processing invoices manually can be very cumbersome, especially when dealing with huge volumes of invoices. This is compounded when processing paper invoices, sometimes leading to lost invoices, human error during data entry, invoice duplicates, and a high operation cost per invoice. Automating the AP department aims to streamline the invoicing process, eliminate human error, and lower the cost per invoice.  
Some of the most common automation solutions for AP are e-invoicing, scanning of documents, optical character recognition (OCR), automation of workflow rules, electronic invoice user interfaces, supplier portals, payment services, and spend analytics for all invoices. Effective automation functions include freeform recognition (the ability to interpret invoices regardless of layout or a vendor template) and automatic learning capabilities. 
Why should enterprises consider AP invoice processing automation? 
The average cost of processing an invoice across all AP centers keeps on increasing. Businesses having automation first mindset while calibrating AP cost center strategy have an exponential positive impact on their businesses - majorly driven by the reduction of manual work. However, if not done correctly it can lead to multiple challenges and complications. An ideal way to approach automating the invoice process is through the combination of AI and automation. 
Have a deep understanding about the 5 things to consider while choosing an IDP solution. 
Deploying AI-powered automation across invoice processing ensures high data extraction accuracy from invoices - up to 99.5%. Gartner recognized AP Invoice automation software like Kanverse - seamlessly integrates with multiple systems present across different business networks without disrupting the current IT (Information Technology) environment. As a result, it connects multiple stakeholders and brings process visibility. Automation enhances operational effectiveness and turbocharges your business operation. 
How Does Accounts Payable Automation Work? 
Invoice processing automation is the solution offered to the enterprises across varied business verticals wherein the accounts payable teams or the finance department can streamline their respective accounts payable processes by automating payment of supplier invoices. Invoice processing automation workflow extracts and validates the invoice data before publishing it into the respective ERP system within seconds. This allows the payments to be made sooner to the vendors which enables business productivity and efficiency.   
The usual Invoice Processing Automation steps include:   
Data Capture from Invoices and reconciliation – Data from invoices gets captured (vendor information, bill to/ship to information, line-item details, tax, etc.). This data is then matched and reconciled manually by the AP team against Purchase Orders and Goods received.  

Approval on Invoices – Invoices are forwarded to the authorized approvers, who can then verify and approve invoices for payments. Multi-level approvals are often required depending on the invoice amount.  

Extracted data enters the ERP system – After the approval phase, invoices are then entered manually for processing by the AP teams.  

Payments against invoices – Invoices processed for payment using standard payment methods like cheque, wire transfer, or via ACH.  

Auditing – Invoices archived with the complete process log that contains actions taken and payment information.  
Benefits of an AI-based Invoice Processing Automation Workflow 
AI-based automated invoice processing software helps AP teams to streamline the invoice processing workflows. It gives more control to AP teams while processing invoices. Thus, improving the processing speed of invoices coming from different vendors and across multiple channels. There are many more benefits when AP teams choose to automate the invoice processing function. 
These intelligent systems also help AP teams to automate the data capture from invoices with high extraction accuracy, invoice reconciliation, and sending invoices to a series of approvers before processing payments. 
Cost Saving: Reduce manual data typed by almost 99% and take advantage of early payment discounts from your vendors 

Improve Productivity: By getting rid of manual tiresome data entry, the AP teams can focus more on the important tasks and reduce processing time from days and weeks to seconds. 
Gain Insights & Analytics: AI-based AP system will extract a lot more intelligent data which leads to deep insights and helps understand inefficiencies and bottlenecks better 

Security & Compliance: The automated process enhances visibility across multiple checkpoints and flags off irregularities. All this is happening in a safe and secure environment within the organization's premises. 
AI-based invoice automation software - automates the entire lifecycle of an invoice right from the moment it arrives in the systems. Other significant benefits include increased process cycle time, faster approvals, reduced costs, and reduced errors - which generally occur with manual processing of invoices. 
What is Kanverse Accounts Payable Invoice Automation? 
AI-powered Kanverse helps enterprises build "Zero-Touch" document processing workflows. It automates the processing, validation, and filing of unstructured, semi-structured, and structured documents. Save costs, reduce cycle time, turbocharge productivity, and boost team morale.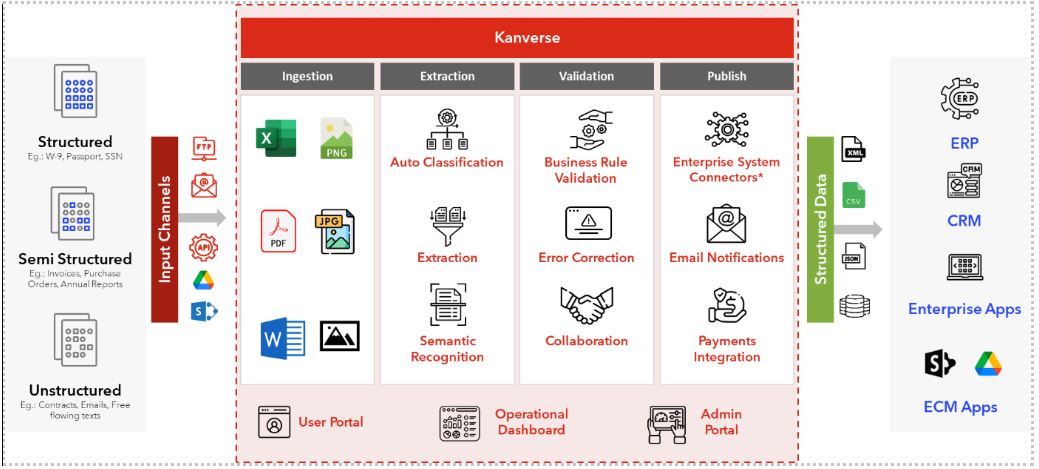 Kanverse Accounts Payable Invoice Automation digitizes document processing for enterprises from ingestion, classification, extraction, validation to filing. Extract data from a wide gamut of documents with up to 99.5% accuracy using its multi-stage AI engine. Say goodbye to manual entry, reduce average invoice processing time from days to seconds, optimize average cost of processing an invoice by up to 80%, minimize human error, and turbocharge productivity of your team. AP automation software like Kanverse APIA (AP Invoice Automation) is built to do the heavy lifting across your AP cost centers while your staff can focus on productive and business-critical activities. 
Kanverse Supports multiple AP Automation Scenario 
Complex Invoices: Vendors with complex invoice formats with pdfs containing multiple invoices, invoices with multiple tables with 100s of line items and spanning pages, running into multiple pages  

PO based 2-Way Matching: PO invoice with multiple shipments, inventory/non-inventory items, freight and tax amount, and other charges like inflation, special charges etc. 

3-Way Matching: Match invoice data with PO and Goods Received data. 

Non-PO Invoice Processing: GL Code combinations for non-PO lines, linked to vendor 

AP Operations: Seamlessly automate centralized and decentralized AP Operations  
Non-English Invoices: Most languages using a variation of the Latin script are supported out of the box 

Allocations: Invoice amount from identified recurring invoices allocated to multiple GL accounts with option of Fixed, Variable and Skeleton distribution 

Discounts: Identify discount on invoice line/header and apply to the invoice total, identify discount payment term, and notify users 

Tax Processing: Identify all tax amounts and process them as per business needs including integrating with third party tax engine 

Evaluated Receipt Settlement: Error out invoice for an ERS PO 
Withholding: Detect invoices that do not mention WHT, but vendor identified as a WHT vendor, and where WHT info is mentioned on the invoice. 

Statements/Supporting Docs: Ignore statements and other supporting documents by putting them in "Other" Folder 

Invoice Batch in a PDF: Segregate, validate and publish each invoice separately 

Invoice Approval: Configure custom multi-level hierarchy-based approval flows and delegations 

Early Payment Discounts: Identify early payments in invoice 
Project Accounting based Invoicing: Identify project number and expenditure types based on invoice using business rules. Update project accounting in addition to invoice publishing. 

High Volume Excel Ingestion: Publish invoices based on excel and maintain appropriate audit trail 
AP automation system by Kanverse
The AP automation system by Kanverse encompasses diverse solutions, including e-invoicing, OCR, workflow automation, supplier portals, and spend analytics. It excels in freeform recognition and adaptive learning, efficiently handling invoices with various layouts and enabling seamless automated processing.
About Kanverse.ai 
Kanverse brings you the best-in-class IDP software to automate submission intake process for Insurers right from ingestion, classification, extraction, validation to filing. Extract data from a wide gamut of documents with up to 99.5% accuracy using its multi-stage AI engine. Say goodbye to manual entry, reduce cycle time to seconds, optimize cost by up to 80%, minimize human error, and turbocharge productivity of your team. 
Schedule a demo with us today to find out more. 
About the Author 
Kingshuk Ghosh, Principal Product Manager, Kanverse.ai