On 9th March 2022, Kanverse.ai, a leading Hyperautomation company, announced its partnership as an Advanced Technology Partner with UiPath, a leading enterprise automation software company. Through this partnership, Kanverse intends to bring zero-touch document processing to UiPath customers with up to 99.5% extraction accuracy (Watch Now). In addition, the Kanverse application is now live on the UiPath Marketplace, and customers can seamlessly install and deploy Kanverse across their business environments.
Enterprises handle a plethora of documents daily. These documents are manually processed, and then the relevant data is manually keyed into the core application systems for storage and retrieval purposes. Relying entirely on manual efforts to process documents can lead to long cycle times, unwanted errors, increased costs, and hampered productivity.
Built upon a SaaS-based Hyperautomation platform, Kanverse IDP (Intelligent Document Processing) and UiPath bring Artificial Intelligence (AI) and Automation as standalone products to deliver unprecedented benefits to customers. Kanverse IDP digitizes the entire document processing workflow across business processes by eliminating the touchpoints that require manual intervention.
Kanverse digitizes document processing workflows for its customers across multiple industries like BFSI, Insurance, Healthcare, e-commerce and retail, Logistics, Manufacturing, and High Tech. Kanverse platform offers a suite of products that integrates AI to OCR (Optical Character Recognition) technologies and Automation to enable multi-channel ingestion, automated classification, data extraction with high accuracy, AI-based analytics, data validation against business rules, and automatic filing of documents. In addition, Kanverse IDP reduces document processing cycle time from days and hours to seconds, optimizes operations cost by up to 80%, prevents fraud, and eliminates manual entry to deliver a zero-touch experience with up to 99.5% processing accuracy.
Automated document processing with Kanverse
UiPath customers can easily upload documents to Kanverse portal for processing. Using its multi-stage artificial intelligence (AI) engine, Kanverse then recognizes, classifies, and comprehends the documents and extracts data with 99.5% accuracy. In addition, Kanverse also provides UiPath users with a powerful user interface to visualize the extracted data, and it enables users to make real-time adjustments to the document. It allows users to validate data based on the business rule framework and monitor and manage errors through the error analytics dashboard.
Kanverse AI also helps users detect and prevent malicious or fraudulent activities with the fraud analytics dashboard and provides a common collaboration platform for all the users in the document processing team to communicate and exchange ideas and documents through asynchronous messages. In addition, Kanverse provides its customers with role-based access control capabilities. It can recognize and mask Personally Identifiable Information (PII) - sensitive information across different document categories – as an added security measure.
Kanverse brings the following capabilities to the UiPath process flow
Auto-classification to determine the type of ingested documents automatically
Multistage OCR engine for cognitive data extraction from documents with 99.5% extraction accuracy
Out-of-the-box and enriched business rule framework for validation
User Interface for data validation, error corrections, and collaboration
Fraud detection and prevention
Advanced dashboards for error and fraud analytics
Download this datasheet to understand the benefits and advantages Kanverse brings to UiPath customers - empowering them to process documents with up to 99.5% extraction accuracy.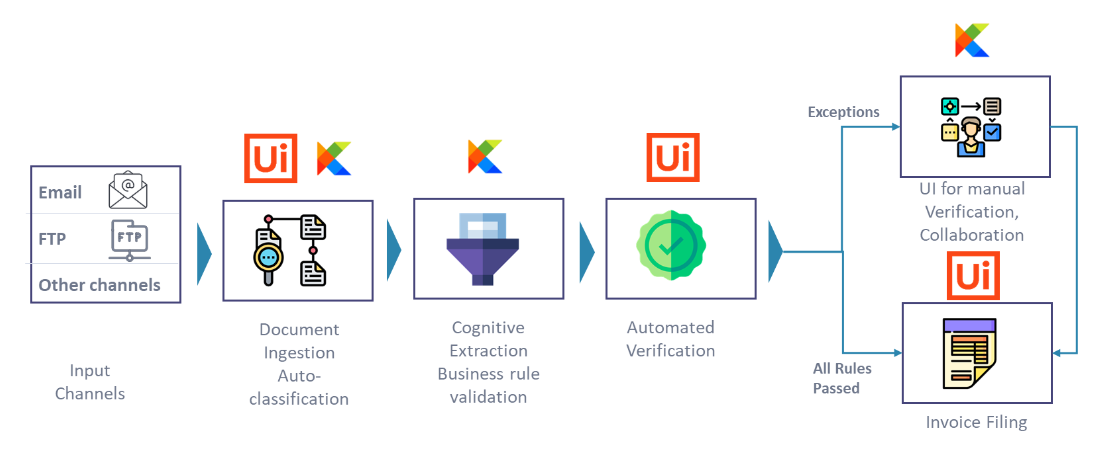 Why do customers choose Kanverse?
Powerful User Interface - UiPath customers can directly upload documents to Kanverse for processing. Kanverse provides native UiPath users with a powerful user interface to visualize extracted data and prompts users with extraction accuracy scores – based on which users can make real-time adjustments to documents.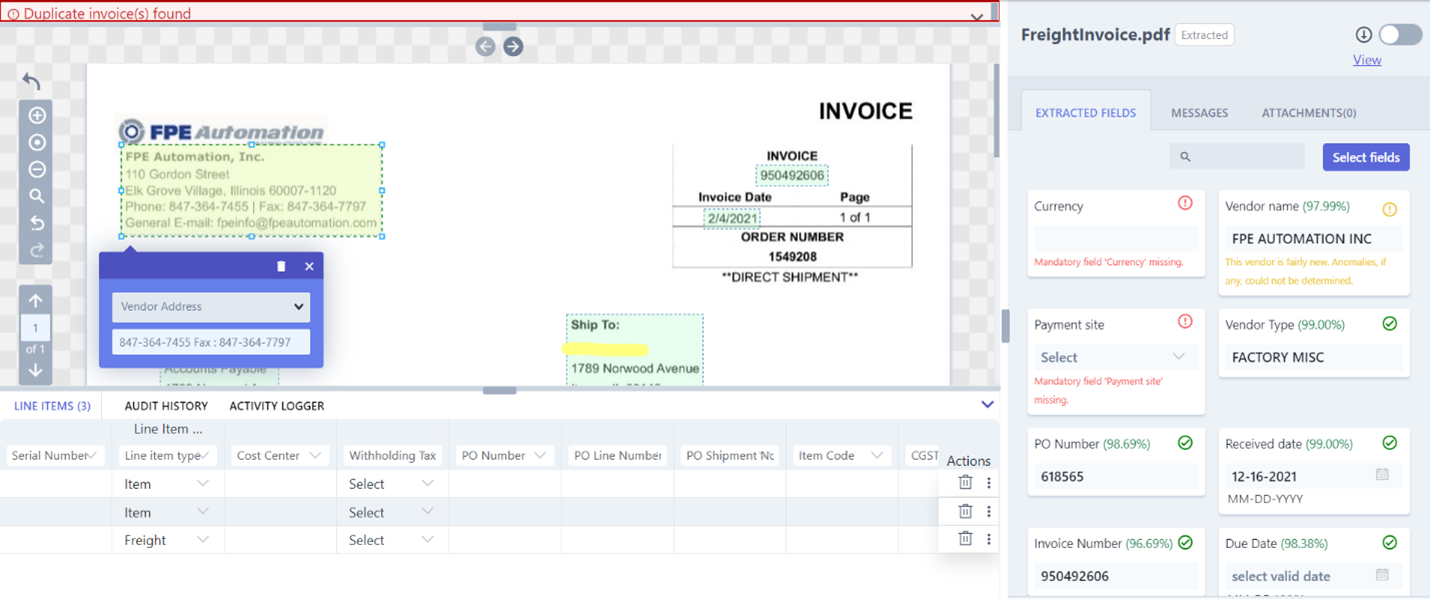 Cross-functional Collaboration – Employees can now connect with internal or cross-functional teams from within the product and collaborate to process documents. In-application collaboration helps employees effectively communicate, share documents and transfer knowledge, provide meaningful action directives, and offer guidance with the help of synchronous messages and real-time notifications.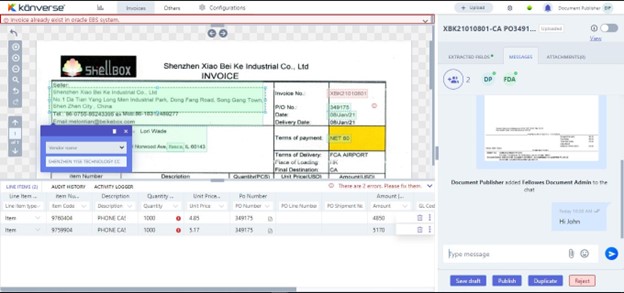 Fraud Detection – Out-of-the-box fraud detection use cases help enterprises to mitigate and manage risks. The system allows users to detect sharp changes across documents using AI to prevent fraudulent attempts. In addition, the system automatically notifies users if any anomaly patterns are detected. For example, it helps AP teams to negate the scope for AP Fraud.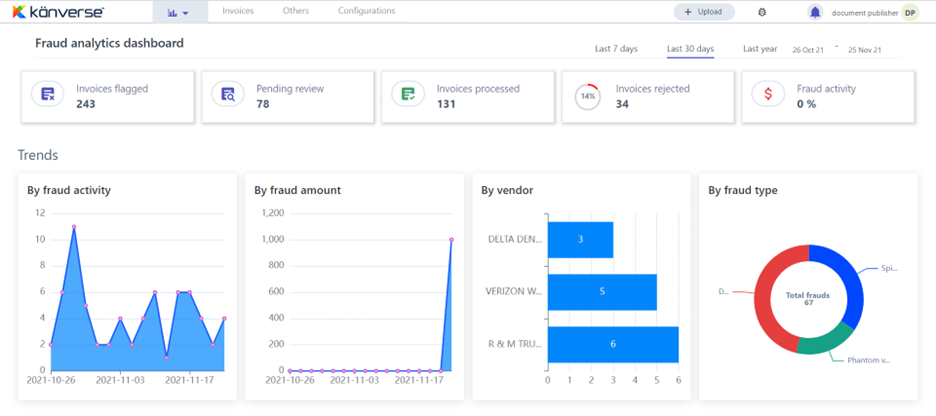 Error Handling – The error analytics dashboard helps users understand the source of document processing errors with drilled downable insights from each vendor. The system also highlights document processing errors to users and guides them towards resolution. Users can also choose to have a customized view for reconciliation.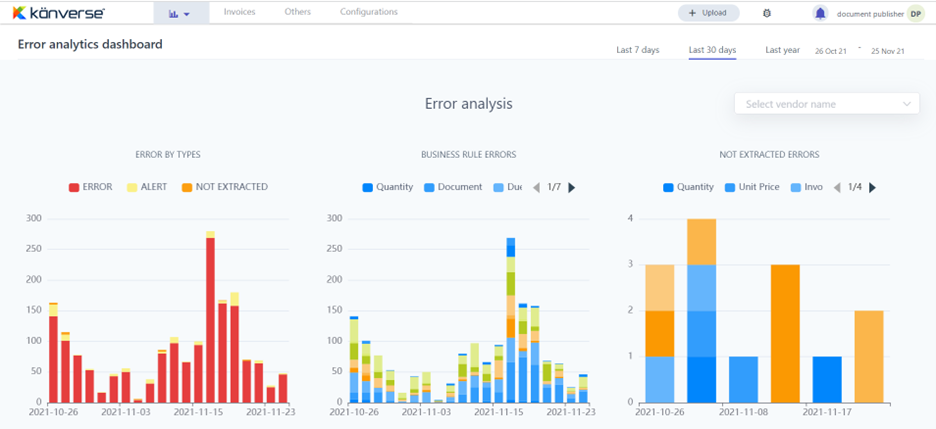 Lattice Semiconductor builds supply chain resilience with Kanverse
Lattice Semiconductor Corporation is an American semiconductor company specializing in designing and manufacturing low-power, field-programmable gate arrays. Manufacturing at Lattice requires procurement of raw material from 900+ vendors, ensuring supply chain continuity. The accounts payable (AP) process at Lattice was manually driven, dragging down efficiency and hampering operational effectiveness. In case of errors, mismatches, or incorrect data (purchase order, amount, GL (General Ledger) code, etc.), the team manually tracked down the information or contacted the vendor to fix it. This increase in invoice processing cycle time was driven by time-consuming and repetitive tasks, which resulted in the overburdening of the AP team.
Kanverse helped Lattice Semiconductor achieve seamless invoice reconciliation with automated 3-way, 2-way matching, and business rule validation. Previously AP teams at Lattice used to extract, validate, and verify the data from invoices manually. Kanverse sends the extracted data through a new generation of business rule framework for validation. Users can perform 2-way, 3-way matching on invoices through a simple drag and drop interface.
The AP team at Lattice leveraged the Kanverse hyperautomation platform to transform its approach toward extracting data from invoices. Kanverse automated invoice processing for Lattice – right from ingestion, extraction, validation, and publishing the data. It has freed employees and enabled them to focus more on business-critical activities.
Download the E-Book to find out about the role of AI in invoice processing which enterprise should be mindful of before considering automation.
Results with Kanverse
With Kanverse, Lattice Semiconductors reduced invoice processing cycle time from days to minutes, resulting in a 90% reduction from previous levels. It achieved the same while constantly processing invoices of different types with the same 99.5% data extraction accuracy. Kanverse helped the company to automate up to 95% of manual activities completely. The company can now develop and maintain strong relationships with suppliers by processing invoices round the clock – powered by Kanverse. The company has managed to save $U.S. 120,000 since it started using Kanverse for processing invoices.
Download the customer success story to learn more about how Kanverse helped Lattice by automating invoice processing, thereby helping it caters to customers across the globe, ensure timely deliveries, and maintain its leadership position.
The UiPath Advantage
The UiPath platform transforms organizations worldwide to become faster and more agile as they face intense competition in a rapidly changing environment. It addresses the end-to-end automation lifecycle by leveraging process discovery tools and employee crowdsourcing projects to determine automation use cases, which is critical in scaling automation across the enterprise with speed and efficiency. In addition, this approach enhances automation sophistication by creating a robust business case for process leaders.
UiPath's pervasive 'automation first' approach is both transformative and substantial by allowing all stakeholders – right from robotic process automation (RPA) developers, testers, and business users – to effectively collaborate and deploy automation at the heart of everyday work. Witness game-changing innovation today with the UIPath+Kanverse solution. Turbocharge productivity, save your operational costs by up to 80% and reduce document processing cycle times by up to 98% with Kanverse IDP.
Read More about the Press Release.
About Kanverse.ai
Kanverse brings you the best optical character recognition software with AI to automate Accounts Payable (AP) Invoice processing and Insurance Forms submission process - right from ingestion, classification, extraction, validation to filing. Extract data from a wide gamut of documents with up to 99.5% accuracy using its multi-stage AI engine. Say goodbye to manual entry, reduce cycle time to seconds, optimize cost by up to 80%, minimize human error, and turbocharge productivity of your team.
AP automation software like Kanverse APIA (AP Invoice Automation) is built to do the heavy lifting across your AP cost centers while your staff can focus on productive and business-critical activities.
Kanverse can also automate insurance submission workflows and seamlessly process ACORD and supplemental forms.
Schedule a demo with us today to find out more.
About the Author
Aritro Chatterjee,Product Marketing, Kanverse.ai