Training traditional machine learning models is often time-consuming, challenging, and resource intensive. Usually, it involves costly services engagements with the vendor for training new documents. Kanverse transforms document processing AI technology by introducing Auto learning capability to its IDP (Intelligent Document Processing) platform, in its latest product release. With Auto learning, users can train new documents themselves and help Kanverse capture and resolve extraction ambiguities. It automates machine learning model training routines seamlessly for enterprises.
What is Auto Learning, and why do you need it?
Auto learning, enables the system to learn from the operators' decisions during document processing to improve the detection of document fields. Auto learning AI programs prevent document processing errors on new document sets, saves operator time, and increases productivity.
Effectiveness and performance of AI models depends on how the AI model has been trained. Now training the model efficiently requires taking care of multiple logistics items. Which can increase cost and deem to be ineffective for enterprises based on capability and reach. Products that automate machine learning model training by placing them on auto mode are highly beneficial for enterprises in multiple ways. It reduces model training time, fastens time to go live, saves costs, and additional man hours. Auto learning increases data extraction accuracy from new documents – when the system witnesses it for the first time. Learn more about the working principle behind Intelligent Document Processing and the role of AI.
Data is the lifeblood of any business. It enables individuals from all levels of the organization to take action and business decisions. However, data in its native state is not beneficial for any organization. Data can be structured, semi-structured, or unstructured, and retrieving unstructured and semi-structured data can be challenging to say the least. Structured documents have well-defined text blocks with data labels and fields consistently in the same place. Learn more about how Kanverse can extract data from invoices bearing different shapes and formats .
OCR solutions work well with such forms because the data remains at the same site on each page. The data labels and key identifiers vary along with the data fields for semi-structured and unstructured documents. Template-based OCR solutions cannot process such documents and need to be trained continuously. Data extraction and accuracy for these documents rely on manual training to locate the 'position information' for a data point. In addition, the cost incurred to set up this function involves manual work, which can increase operations cost multiple folds.
The first wave of document processing technology was driven by template-based optical character recognition (OCR). This process seamlessly extracted data from similar documents. However, this approach had its pitfalls. The system would fail when it witnessed different documents; it required dedicated resources to keep creating new templates and maintaining old ones. It turned out to be equally inefficient, unproductive, and highly time-consuming. These products ultimately end up involving manual interventions in too many touchpoints and encounter errors that need to be corrected by humans.
With Auto learning, Kanverse takes a fundamentally different approach that helps businesses achieve the highest levels of accuracy and automation in the market.
Auto Learning AI by Kanverse
Kanverse uses artificial intelligence algorithms to perform automatic classification and data extraction. The new interactive Auto learning feature lets users train the Kanverse engine to recognize different document types and find data fields on them.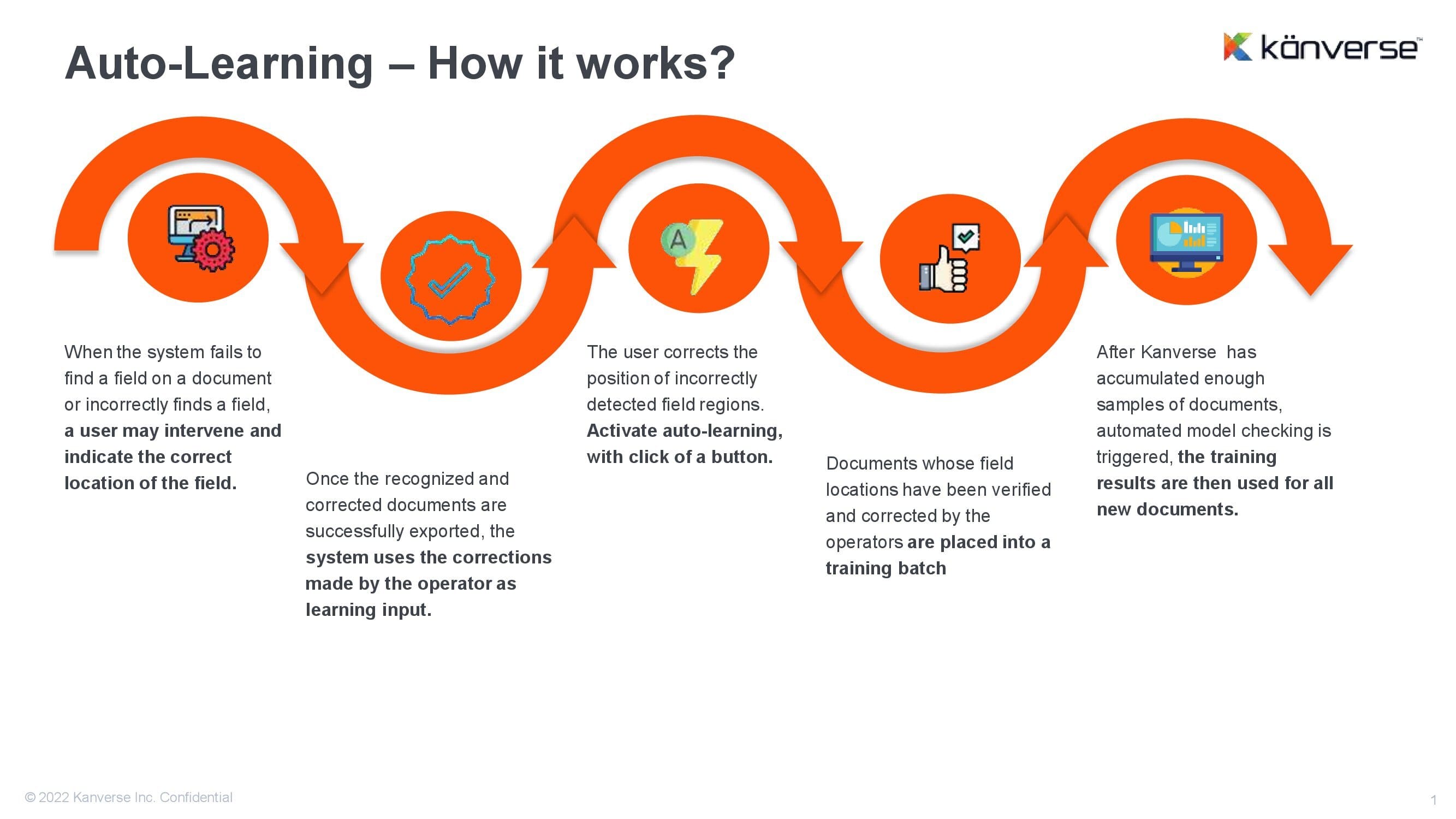 Kanverse IDP combines multiple AI (Artificial Intelligence) technologies with Optical Character Recognition (OCR) and Automation to provide an end-to-end product that digitizes document processing for enterprises from ingestion, classification, extraction, validation to filing. The entire process is powered by Natural Language Processing (NLP), Fuzzy Logic, and advanced Machine Learning (ML) algorithms to make business processes more efficient, optimize cost, abolish human error, and mitigate risk.
Kanverse's Auto learning uses user-marked field regions for training and various anchors, such as static text, to determine the position of a field region. Users do not require any special knowledge or skills and only need to mark out the areas of the fields on the document. Users can train the multi-stage AI engine to classify documents and detect field regions on documents with fixed and semi‐structured layouts.
Learn from Dr. Akhil Sahai (Chief Product Officer, Founding member Kanverse.ai) Published on Forbes - About Using AI To Automate Enterprise Document Processing Workflows.
In a typical workflow, users, during his/her work on the Kanverse UI (User Interface), can correct the position of incorrectly detected field regions or mark new additional fields. Next, the document is sent further along the workflow to the training stage after the export stage. After the Kanverse engine has accumulated enough documents with the field region marked by the users, the training results will automatically be applied for all new documents. To activate auto learning, users need to enable the training mode on the Kanverse document viewer. The platform also prompts users to enable Auto learning when any corrections are detected.
About Kanverse.ai
Kanverse.ai, a Hyperautomation company, offers AI-powered Intelligent Document Processing product that delivers zero-touch experience for AP (Account Payable) Invoice Automation and Insurance Document Processing.
Kanverse Accounts Payable Invoice Automation digitizes document processing for enterprises from ingestion, classification, extraction, validation to filing. Extract data from a wide gamut of documents with up to 99.5% accuracy using its multi-stage AI engine. Say goodbye to manual entry, reduce cycle time to seconds, optimize cost by up to 80%, minimize human error, and turbocharge productivity of your team.
AP automation software like Kanverse APIA (AP Invoice Automation) is built to do the heavy lifting across your AP cost centers while your staff can focus on productive and business-critical activities.
Kanverse can also automate insurance submission workflows and seamlessly process ACORD and supplemental forms.
Schedule a demo with us today to find out more
About the Author
Kingshuk Ghosh, Product Manager, Kanverse.ai